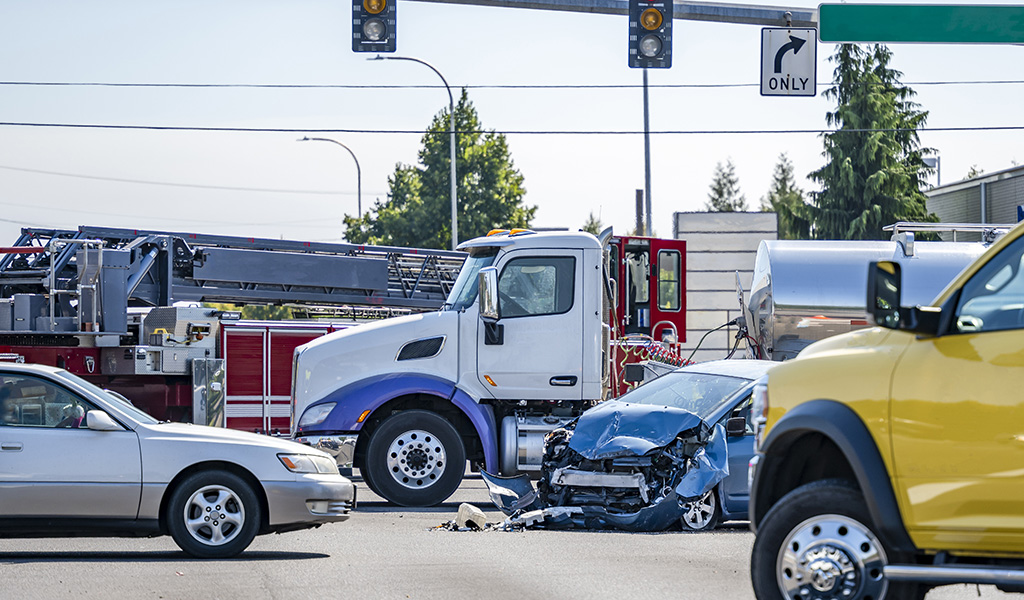 Personal Injury
Trucking Accidents
If you have been injured in a tractor trailer crash, you need aggressive legal counsel immediately. The trucking and insurance company will have adjusters and investigators to the crash site as soon as possible. Why should you wait for someone to protect your interests? With the help of our experts, the team at Bragee law takes swift action in preserving evidence in trucking crash cases to ensure our clients receive the maximum compensation on their injury claim. The team of Bragee Law will get experts in place and a team member to the crash site as quickly as possible.
According to recent statistics from the Illinois Department of Transportation, there were over 9,000 trucking accidents in Illinois in 2020 and 105 fatal Illinois trucking crashes. That's roughly 25 Illinois trucking accidents per day and a trucking crash death in Illinois every three days. It is imperative to drive safely on the highway, especially when driving near a tractor trailer.
2020 Illinois Tractor-Trailer Accident Statistics
Tractor-trailer Fatal Crashes
Car crashes involving a tractor trailer are more intense and complicated than other injury cases. Oftentimes the injuries arising from the tractor trailer are more serious due to the sheer size of a semi truck. A tractor trailer can weigh anywhere from 10,000-25,000 pounds. Comparatively, a Honda common passenger sedan weighs roughly 3,000 pounds.
The impact and force in which a semi tractor collides with a passenger vehicle is catastrophic, and so are the injuries in which they inflict. Catastrophic injuries involve complicated treatment and sometimes permanent treatment. Common injuries associated with Illinois semi truck cases include:
Common Injuries in Illinois Trucking Accidents
Broken Bones 

Torn muscles, tendons, and ligaments

Spinal injuries 

Neck or cervical spine injuries 

Internal bleeding and organ injuries

Traumatic brain injuries 

Amputations
Truckers and trucking companies are regulated by the Federal Motor Carrier Safety Administration – https://www.fmcsa.dot.gov/ to ensure truckers adhere to safe driving on our highways.  These regulations are complex and voluminous.  The team at Bragee Law is well versed in the FMCSA and know how to hold truck drivers and trucking companies accountable for their actions.  
We back down from no one and are not intimidated by the size of the trucking company, or the size of the law firm they hire.  We will not stop until we have aggressively pursued recovery for all damages in Illinois.  We demand compensations for our clients for medical bills (past and future) pain and suffering, disfigurement, loss of a normal life, and unfortunately at times, wrongful death.   At Bragee Law, we offer a free consultation, and we don't get paid unless we win.
What Damages Can I Recover In An Illinois Trucking Accident Claim?
Medical Bills 

Pain and Suffering 

Wrongful Death 

Past and Future Wages

Loss of Normal Life 

Disfigurement